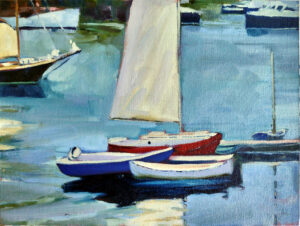 Do I need a website?
"Do I need a website? I already have a Facebook page and Instagram." That's a common inquiry I get from emerging artists.
I'm the last person to dis the Metaverse—I use it daily. But it has its limits, starting with fact that you don't own it. If you've ever run afoul of FB's esoteric speech algorithms, you'll understand its power to shut you down. I once earned a 30-day slowdown with a bit of hyperbole. It had a devastating effect on clicks. It took much longer than my period of detention to recover, because it pushed my blog way down in their display algorithm.
Furthermore, the Metaverse is fleeting. The half-life of a social media post is the amount of time it takes for a post to receive half of its total engagement. FB ranks near the bottom, at 60 minutes, only slightly besting Twitter. That's fine if you're advertising t-shirts, but fine art requires intellectual engagement.
Instagram is better, with almost a full day of engagement, but it suffers the limitation of no live links. That means people will buy your painting on IG or not at all. Despite my decent track record of online sales, I've never sold a painting through IG, so I use it to create background noise, nothing more.
FB and IG don't come up on Google search nearly as often as items posted on websites. That means people simply can't find you if that's all you're doing.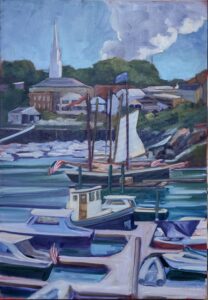 A website today functions almost like a Yellow Pages listing did a generation ago—it not only makes you findable, it denotes a level of reliability to users. Its content is also as static or changeable as you want. We all 'know' that we're supposed to constantly change up content to feed the Google maw, but buyers also want to be able to see your catalogue. Importantly, so too do jurors and gallerists.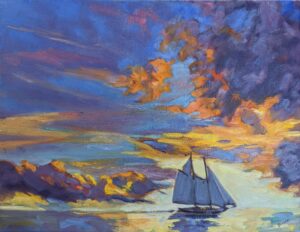 What's the best host for my website?
That's a much more difficult question for me to answer, because it depends on your skill level and your interest in managing your own marketing. FASO Fine Artist Websites and Fine Art America are good 'plug and play' marketing tools. My friend Poppy Balser has had a FASO account for years, and she's a nimble, accomplished on-line marketer.
I was most surprised to realize I have a free Google Site. These are intended for small groups, like soccer clubs and school classrooms, but it may provide all the functionality you need to get started.
My website is built on WordPress. It's powerful for online commerce, but I sometimes feel like a three-year-old who's been given a Lamborghini. Ultimately, I had to hire a developer to help me put the bones of on-line commerce in place. And it has relatively high running costs if you're not making a lot of online sales.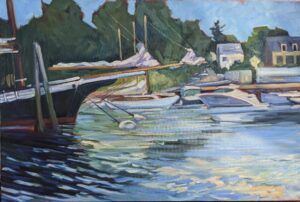 Keep it simple
However you design your website, it will benefit from constant pruning. Viewers want to see your most recent work, examples from your catalogue, your blog (if you have one), your upcoming shows, and your CV. Nobody wants to wade through acres of verbiage and layers of windows.
What website host do you use? If you're willing to share your experience, please respond in the comments section below.