Have you wanted to take my watercolor workshop on American Eagle but the dates didn't work out for you? We're doing it again this autumn, September 25-29.
There's more opportunity for sunset painting in the fall. Photo courtesy of MB Rolfe.
Captain John Foss
is a true antiquarian, maintaining and sailing a lovingly-restored schooner. It's fitting that he uses one of the last remaining flip phones in America. I was most surprised to see a message from him while I was in Nova Scotia. Would I be interested in teaching a second workshop aboard
American Eagle
this fall?
With him sailing up and down the coast with that ancient phone and me out of the country, it was a little difficult to work out dates, Eventually, we decided on a sail that will run from Wednesday, September 25 to Sunday, September 29.
Under sail and hard at work aboard American Eagle.
Autumn is absolutely the best time of year here on the coast of Maine. Just as large bodies of water are slow to warm up in the summer, they're slow to cool down in the fall. Fall, with its gorgeous flaming colors and earlier sunsets, is my absolute favorite time of year to paint en plein air. It will be especially beautiful from the water, with the reds of the blueberries and trees contrasting with the dark spruces and infinite blues of the sea.
Deckhand Kevin with the lobsters. Photo courtesy Mary Whitney.
What I've learned painting on American Eagle
I've painted on this boat in the summer and in the fall, and I will never predict what will happen; every sail is different.
Colleen Lowe drawing Paddington Bear's secret life of debauchery. Photo courtesy Mary Whitney.
Your materials are all provided, including paints, papers, and brushes.
The trip lasts four days. Lighthouses, wildlife, and unspoiled scenery are part of every trip. The boat is a true relic of the Age of Sail, but it's been updated so you have a comfortable berth, fresh linens, modern heads and a fresh-water shower.
And then there's dessert. Photo courtesy Mary Whitney.
Every meal is lovingly prepared by the cook and his messmate, my pal Sarah Collins. That includes a lobster bake, which might be at sea or on shore, depending on where we end up.
I'm providing a complete painting kit made with QoR paints, which are very high-quality, and high-end watercolor paper and sketchbooks. We'll use waterbrushes and a waterproof pen.
Pulled up for a picnic on Russ Island. That's the Lewis R. French in the far distance.
Is painting on a moving boat even possible?
Yes, and it's fascinating. The water, sky and shoreline are constantly changing. In addition, we've scheduled this workshop for the longest days of the year so that we'll have plenty of time to paint sunrises and sunsets while at anchor.
Who's invited?
This workshop is aimed at watercolor or gouache painters, particularly those with an interest in the sea or sailing. No experience? You're very welcome; we've got everything you need to get started.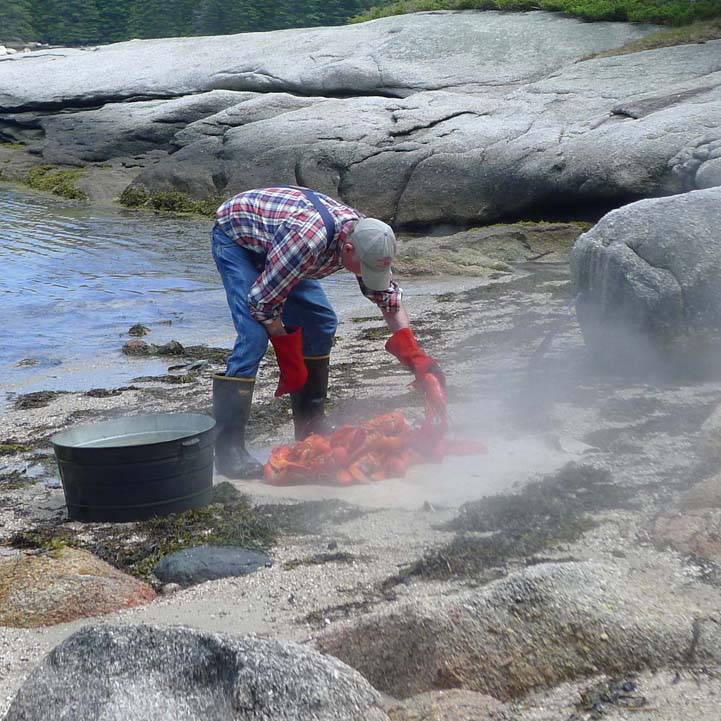 Lobsters are the one meal that the captain cooks.
To register
The schooner trip is $745, and your tuition for the workshop is $275, for a total of $1020, all inclusive. Email me
here
for more information. Or email American Eagle's offices
here
or call them at 1-800-648-4544 to register. If you sign their
guest book
, they'll send you a copy of a DVD.
Discounts
There's a $25 discount on tuition to members of New York Plein Air Painters, Plein Air Painters of Maine or returning students from any of my workshops.