Update: here is a link to all the paintings in this sale.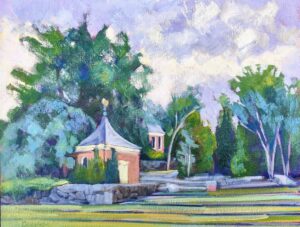 Camden Public Library is co-sponsoring the Camden Native Plant Celebration & Sale — A Wild Seed Project, on the grounds of the Camden Amphitheatre Sunday, Sept. 18, from 9 AM to noon.
I asked ten of my students to create art for this project. Their only limitation was that they were restricted to native species; they could work in any medium they chose. Proceeds from the sale of their work will be split between these emerging artists and the library. This is just a very small selection of the work that will be available.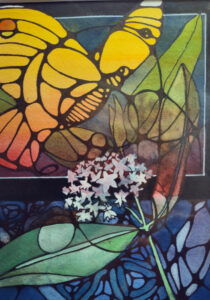 Fundraising is important because Camden library's remit extends beyond its building. The library maintains Camden's amphitheater and harbor park in addition to its own magnificent grounds. All three were designed with an eye towards the natural environment. That was an unusual approach a century ago.
In 1928, architects Parker Morse Hooper and Charles Greely Loring chose to slip the library under the shade of existing elms and maples on the site, angling it toward the community rather than the picturesque harbor below. Today, traffic and parking have rendered the Main Street portico almost obsolete; patrons use a new ground-floor entrance on Atlantic Avenue. That has an upside; its facade is undisturbed in its austere, symmetrical, colonial beauty, despite the very modern library within.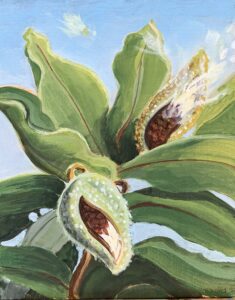 Immediately adjacent to the library is Camden's amphitheater. It's a confection of fieldstone, brick, grass native trees and shrubs, with Art Deco wrought iron rails, light standards, gates and arches. It's all carefully orchestrated to marry sophisticated garden theater with the wilds of Maine.
Across Atlantic Avenue, Harbor Park extends the views from the amphitheater down to busy Camden Harbor. This was designed by the Olmsted Brothers and is less formal and more naturalistic. It also relies on native plantings.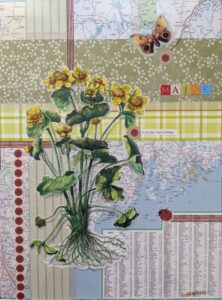 Once this fabulous complex of gardens was completed in 1931, the whole mess was given to Camden Library by arts patron Mary Louise Curtis Bok. Here choice of stewards wasn't misplaced; they're approaching their centenary in great nick.
In addition to my painting above, I'll be painting en plein air during the event.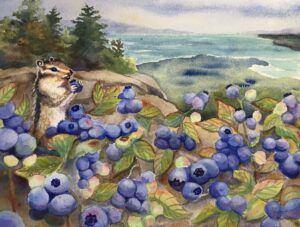 But honestly, the event is mostly about the plants. They're available for pre-sale here. They're from local native plant nurseries and are grown without the use of pesticides, herbicides, and neonicotinoids. "Native plants are low maintenance and normally do not require watering, fertilizer, herbicide, fungicides, or pesticides," said Amy Thomsen, organizer, restoration ecologist, and my buddy.
If I can sneak away, I'll be looking for a tree to replace the not-native sequoia seedling in my front garden. It only lasted two years before it dropped dead from cold. Imagine that.