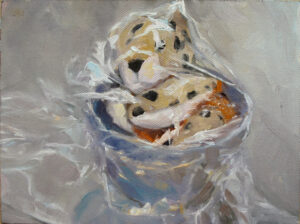 Most artists will tell you they love working big. We love making statement pieces that grab all eyes when people enter the room. These feel 'important.' The bigger you go, the easier it is to keep the brushwork free. Yet, practically speaking, we paint many smaller pieces.
I've been updating my website by adding still lives from a 6x8 show I did many years ago. My kids were of an age to chase the moment's crazes, like Baby Monkey Riding on a Pig. Whatever idiotic thing they chattered about, I painted.
Some are dated, like the woman who fell into the fountain texting. The shoes could pass, but the cell phone is so 2011. In some cases, I can't even remember the meme. What prompted me to paint a stuffed animal in a bowl, wrapped in plastic?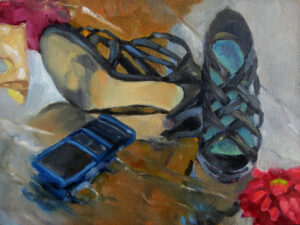 The power of small paintings
Today I almost never paint this small. I'm not alone in that; it's tough to love a tiny canvas. But by always going bigger, we ignore the power of small paintings. How many times are we in a museum and gallery and grabbed by a little gem in a corner? A small painting, artfully placed, can have the same impact as a monumental painting above the mantel.
Crista Pisano has made a career of painting jewel-like plein air miniatures, which is practical as well as aesthetically-pleasing. She doesn't have to carry big, bulky frames to events.
From the consumer's side, small paintings are a practical way to ease into art-buying. They seldom run more than a few hundred dollars.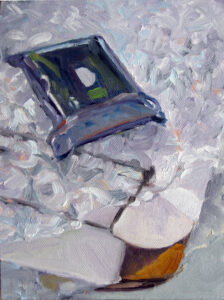 Why don't painters tell more jokes in their work?
Painting can take itself way too seriously. I was reminded of this recently as I flipped through one of my sketchbooks with another small being—my grandson Jake. At eight, he's unimpressed that I can model rocks and sea accurately. What he's interested in is Action! Humor! Dragons!
"What have you painted recently that tells a story?" I asked myself. Well, Ravening Wolves, and In Control (Grace and her Unicorn). But for the last decade or so, it's been mostly straight-up landscape with the occasional figure or portrait commission thrown in. Recently, as I've written, I've realized this isn't enough.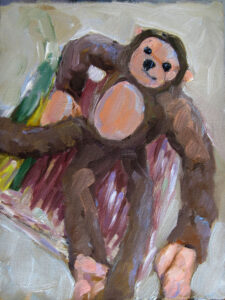 I'll never be another Francisco Goya (whose Disasters of War should be required viewing for every voter) or Käthe Kollwitz. I've been spared firsthand experience with war, thank God. As a result, I'm simply not that deep, or that dark.
I'm sort of the Bertie Wooster of oil painting—trivial, amiable, wooly-headed, and somehow always bobbing along into events that are bigger than me. That realization is what got me thinking about these old still lives. There's something about the triviality of modern internet culture being taken as seriously as a portrait of the president that still makes me laugh.
Small paintings are a place to explore our odd ideas. I need more of that.