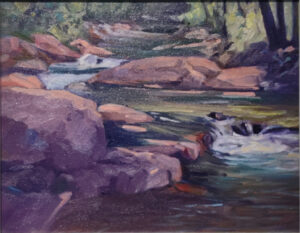 Host housing is an imperative on the plein air circuit; buying a hotel room for ten days in a town like Sedona would wipe out any profit from the gig (and anyone playing at this level is in it for the money). But it's difficult to show up at a stranger's house, drop your paint-stained luggage in their entryway, and ask to be shown their guest room. Amazingly, it seems to work.
Earlier this month at Cape Ann Plein Air, I gamed the system by asking to stay with Rae O'Shea. I'd never met Rae in person, but we have a mutual friend in Jane Chapin and we've been Facebook friends for years. We're both Anglophiles, so with the recent death of Queen Elizabeth we had a lot to talk about. Even with that, it was a little tough to pull into Rae's driveway and announce, "Honey, I'm home!"
I met Jane Chapin when she was my host for Santa Fe Plein Air Fiesta. I think she had six artists staying with her; wisely, her husband was elsewhere that week. As there is no cell service in the Santa Fe wilderness, we were frequently draped over her furniture, using her internet. Amazingly, she not only tolerated me then, we've become fast friends. We went to Patagonia together, where we were stranded at the start of COVID. There we developed giardiasis (so-called Beaver Fever). "Friends that suffer unremitting diarrhea together, stay together," I always say.
Lisa BurgerLentz and I once shared an austere but beautifully-sited summer cottage at an event. It wasn't being used by the owner, perhaps because it didn't have potable water. We'd been warned; we were careful; we still managed to catch Beaver Fever. While I like extreme plein air painting, it can be tough on the gut.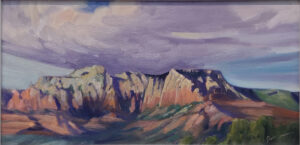 My all-time favorite billet was a tiny cabin in the deep northern woods by a lake. There was an outhouse and an outdoor shower and I slept in a loft. I could have cooked as there was a propane stove, but as usual I made do with sandwiches.
Like most of us, I'm a creature of habit. I'm early to bed and early to rise; I don't eat out, and I don't watch television or movies. After a day interacting with strangers, I want to crawl into a hole to read. Depending on my hosts' habits that can make me either a fabulous guest or a terrible one.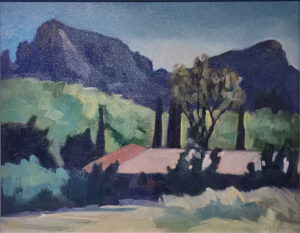 This week I'm billeted with a lovely couple named Deb and Lisa at a luxurious home overlooking Sedona. Casey Cheuvront is also staying here, but she's on another floor entirely. We could—if we chose—meet only by appointment. There's a heated pool, a hot tub, and a gourmet kitchen. That last is completely wasted on me, but I have taken advantage of the pool.
Usually, our hosts are interested in the arts themselves, either because they're artists or they volunteer for the organization hosting the event. Lisa is a jeweler herself, so she and Deb understand the nature of our days. And they're wonderful company. Once more, I'm afraid, strangers have become my friends.