Painting is a solitary journey, but there are times when you need the help of others.
I've fussed and worried about migrating this blog to my website for close to a year now. Blogger has discontinued its subscription widget, which makes maintaining readership almost impossible. I started on WordPress, moved over here in 2007, went to the Bangor Daily News for a few years and then came back. With those moves, I just wrote off my prior content and moved on. But this blog has become too deep to do that. It's essentially, the repository of every Great Thought I've ever had about painting.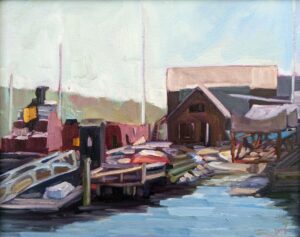 Belfast Harbor, 14X18, oil on archival canvasboard, framed, $1594.
Every few weeks I've spent a morning trying to work out the problem. I've watched YouTube tutorials, read expert advice, and gotten nowhere.
I'm not computer-illiterate. Twenty-five years ago, I was a semester short of a degree in programming when my husband suggested that I take up painting full time. "The world is full of programmers," he said, "but it needs more artists." I'm not sure he was right, but I can, mostly, fix my own computer problems.
Last week, I folded. I called my software developer daughter and laid out the problem. By the time we ask for help, we're usually pretty angry with ourselves. All our self-doubts come to the fore.
"First of all," my daughter said, "you're not stupid. This stuff is hard." I was terribly proud of her at that moment. Whatever intellectual gifts she has, they're dwarfed by the fact that she's kind.
She then told me what I should have realized all along: I need to hire a professional. I contacted the woman who monetized my website for me, and she's working on it now.
(Note that all the programming in this story is being done by women. Female programmers account for just 5% of the field worldwide, so that tickles me pink.)
I have felt that same frustration in painting. After my epiphany 25 years ago, I started taking painting classes, in Rochester and at the Art Students League in New York. Some of those classes were enormously useful—with Cornelia Foss, for example—and some were less so. I'm acutely aware of the feeling of frustration when faced with a painting problem I can't figure out.
Much of that frustration could be avoided if someone would lay out the process clearly and concisely. That's what Foss did for me, bringing me into the 21st century in her own crusty way. It's what I try to do for my students. Painting is a technical exercise, so it should be addressed primarily in technical terms.
Last week, I was being bedeviled by a watercolor question. Mick McAndrews answered it for me. He sounded eerily like my daughter—what I was trying to do was hard. Sometimes, just knowing that is important, because it takes out the background chorus of negative thoughts.
Every few months I'll ask my pal Eric Jacobsen how he makes mauve, a color he uses to fantastic effect in landscapes. Apparently, I don't like the answer, because I immediately forget what he tells me. That's a different problem: simple willful ignorance.
Painting is a solitary journey, but there are times when you need the help of others. How much advice varies based on your personality and level of experience, but it's foolish to go it alone. Sometimes, taking a class or workshop is the best investment you'll ever make.