Zoom class: high, wide and handsome (large serious paintings)
$315.00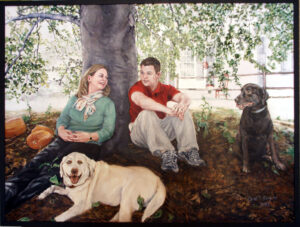 Creating a large studio painting involves methods that are different from a fast alla prima painting or field sketch. This eight-week class will cover the process step-by-step, including:
Conceptualization
Gathering and organizing reference
Sketching and composition, including using digital painting software
Choosing and preparing the surface
Grisaille/underpainting
Color organization
Layering and building up forms in a coherent manner across a large canvas
Keeping it fresh
Refining details
Final adjustments and finishing touches
You can do a portrait, a landscape, or a conceptual painting.
Dates (Mondays)
June 12, 19, 26
July 3, 10, 17, 24, 31
Time: 6-9 PM
Requirements
Because this class presumes familiarity with composition, color theory and paint application, it is not suitable for beginners. (If you've never studied with me before, email me here for more information on the level of experience needed.
You will need a high-speed internet connection and a laptop or tablet that is near your painting area. We will be painting in class.
Watercolor, oils, pastels, gouache, tempera, are all welcome.
REGISTER BELOW
Out of stock
Description
Eight week session to strengthen painting skills, open to students with some painting experience, strictly limited in size.