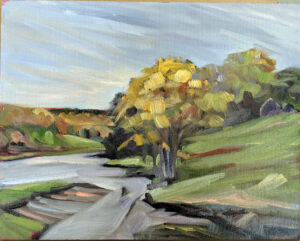 Does your oil paint look bright on the palette, but turn muddy or grey on the canvas? Do you have trouble keeping colors clean? You're using too much solvent and/or medium. It's an easy problem to fix, once you've learned the correct technique.
Why fat-over-lean?
Fat-over-lean prevents sinking color and cracking paint emulsion. The first is that dullish grey film that develops over paint that's overthinned with solvent. Cracking paint doesn't usually appear until after the artist is dead but is a major issue in some masterpieces.
Some manufacturers of alkyd mediums argue that the fat-over-lean rule no longer applies. Take this with a grain of salt. It takes time for problems to appear in paintings, time that's measured in decades, not years.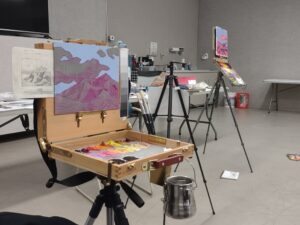 Simple concept, tricky application
By 'fat' we mean the medium-either commercially-mixed mediums or drying oils like linseed, poppy or walnut. The paint itself contains medium as a binder, usually in the form of linseed oil. By 'lean' we mean a solvent, usually odorless mineral spirits (OMS).
OMS evaporates, so its dry-time is dependent on temperature and humidity. Drying oils don't evaporate, they oxidize. That means they stay there, bonding with oxygen, creating a new chemical structure on the surface of the paint. This combination can be extremely durable.
In plein air, this process is usually cut back to two or three steps: an underpainting cut with OMS, a layer that's pure paint, and then possibly a detail layer cut with medium on the top. However, in more complex paintings with more layers, the shift from lean to fat can be more gradual.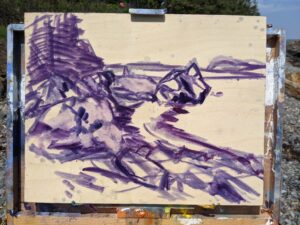 The underpainting
The underpainting or grisaille should be thinned sparingly, and only with solvent (OMS). Keep it dry enough that it's not shiny. How can you tell? Stick a finger in your paint. If you can slide the paint around, it's too sloppy. If your finger looks like you were just fingerprinted, it's too sloppy. You should be able to see just a bare hint of color on your fingertip.
If you put too much solvent in the bottom layer, you'll get muddy, mushy color as you try to build. No, you don't need to wait for it to dry. Take a paper towel and lay it carefully on the surface of your painting. Use your hand to apply pressure. You're blotting-not wiping-the excess moisture away. It should be almost dry to the touch before you proceed.
It's best to avoid blotting. Learn to use only fractional amounts of solvent, just enough to allow the paint to move without dragging. Use a rag to lift paint from light passages, instead of using excess solvent to thin these passages.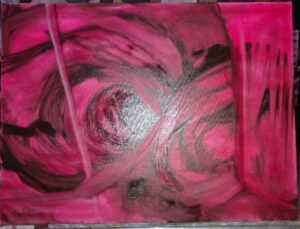 The middle layer (which is also sometimes the last layer)
This next layer should be as close to pure paint as possible. If your paint is too stodgy to move freely, check to be sure that you aren't using clotted, hardening paint. Or, your brushes may be too soft for alla prima painting, which works best with hog bristles. If you must thin your paint, a drop of oil is all that's appropriate in this layer.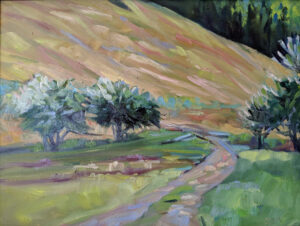 Top layer or detailing
Here you can use medium or linseed oil. But if you use more than a dollop the size of a mechanical pencil's eraser in an 8X10 painting, you're overdoing it. Using too much medium will result in soft, lost lines and mediocre brushwork.
Medium is helpful for laying detail down over wet paint, but don't develop an overreliance on it. Many artists use none at all.
There's room in my upcoming critique class. It's a great way to bring your painting to the next level. Open to intermediate painters in all media.
My workshop schedule can be found here. That includes an immersive, in-person workshop in Rockport, ME. In 2024, we'll be in Sedona and Austin in March, and the Berkshires in August. Why not register today?