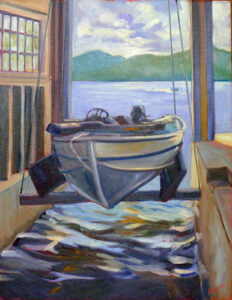 Beth is one of my most advanced students. When she first started my Zoom classes, she worked in a corner of her kitchen. The lighting was abysmal. She had to carry her painting across the room to her computer every time she wanted to share it with the class.
She has a good field easel and sometimes set that up indoors. Just last week she sent me a photo of a painting she's been working on, and I realized she's also been using a tabletop easel.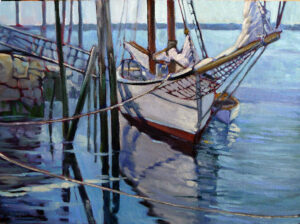 Any tool can be the right tool?
There's no law that says you can't create brilliant work on a tabletop easel; Beth has demonstrated otherwise. But it's tough on the back, and that alone will break your concentration.
We all make these sacrifices when we start painting. The start-up cost for a fully-outfitted studio is daunting for those of us of modest means. I painted for several years on the foldable floor easel I'd had as a kid before I could afford a proper studio easel.
But there are limits to this approach. "Paint like you're rich!" my student Becky Bense says. There's lots of wisdom in that advice.
Cheap watercolor paper will convince you that you're a bad artist, that you have no talent, and that there's no point in pursuing painting. Compound that with department-store paint sets and you will quit in frustration before you ever really get started.
In oil painting, the unpleasantness of bad materials doesn't show up as quickly, but it's there. The cheapest painting boards warp, and pigment bleeds through the thin gesso. Bad hog bristle brushes will paint properly at the beginning but quickly lose their hair. And department-store paints are often hues, or cheaper analogues of expensive pigments.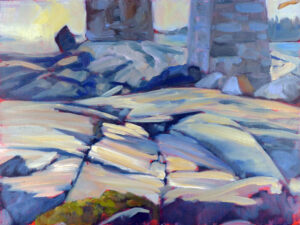 Step away from the pretty paint rack
There are ways to cut corners without cutting quality. Start by being disciplined about buying paint. New paints are seductive and beautiful, but they're also expensive. Avoid paints with romantic names like Wisteria, Moonstone, or Silver White or historic names like Naples Yellow or Egyptian brown. It's all romantic twaddle.
In fact, before you buy another tube of anything, I suggest you do this exercise to see what's on your palette now, and what holes might need to be filled.
Ironically, people end up spending more on bad brushes than they would have had they bought just a few decent ones at the beginning. I often see watercolor students starting my classes with a pail full of cheap brushes that, in total, cost more than just a few good brushes would have. If you keep buying brushes that don't seem to work, put away your credit card and ask an expert what you really need. Your painting teacher should have a supply list that includes brushes.
Canvas pads are another way to cut costs at the student level; they're properly primed. If you should turn out a masterpiece, you can always mount it on a board. You can also sand out and reuse old boards, providing they don't have too much impasto on them.
The happy ending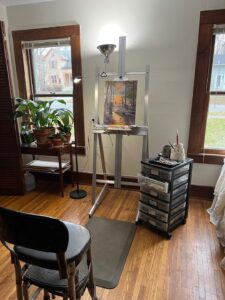 Recently, Beth moved to a different space in her house. She tackled her lighting issue with a clip-on lamp. She also bought herself the Testrite #700 Professional Studio Easel that I recommended in Holiday Gifts for the Serious Artist.
My other holiday gift guides are here and here, and this is a reminder that my Twenty Paintings, 20% off sale ends tonight.
This page contains affiliate links for some but not all products. If you choose to make a purchase after clicking a link, I may receive a commission at no additional cost to you. Thank you for your support!