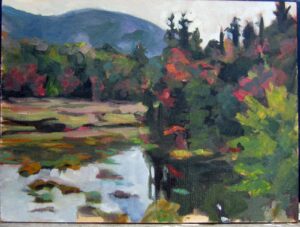 This fall two of my students threw together their first commercial art shows. Karen in San Francisco sold out. That's an unusual achievement; I've never done it and know few artists who have. Karen kept her prices low and invited everyone she knows, she told me.
Mark is doing a studio show as part of a holiday walk of artists in Austin, TX. On Saturday I asked him how it was going. "I've sold a few things," he said.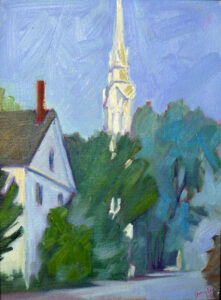 Neither of these painters are lifelong artists who secretly nurtured genius until their Big Reveal. Mark has been painting for about two years. He started with me when I started teaching on Zoom during the pandemic. Karen came to me from Bobbi Heath's beginner class some time last year. Both are at the phase where style and technique are starting to gel. Importantly, both are realists who understand exactly where they fit in to the continuum. How, then, did they muster up the courage to put their work out there?
Karen was motivated by space. "I had all these paintings hanging around," she told me. That's why I did my first show decades ago, and the result has been a career in art.
Mark told me he's not doing it to make money, but to improve as an artist. "You need to push," he said. "Put yourself out there, bare naked in the middle of the street. Paint in public, sign up to sell, create an Instagram account. The pressure of being seen makes you strive to do better and exposes you to artists who are better than you. You will also be surprised and comforted at seeing those who are not."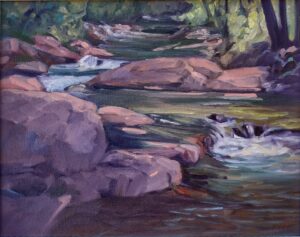 (Note that I said nothing about 'talent' here. It's a spurious concept that has little to do with excellence. Genius, as Edison said, is 99% perspiration and 1% inspiration.)
Vulnerability is never a comfortable feeling. I've sometimes felt totally outclassed at shows, like a duffer who was accidentally admitted into the presence of the Big Boys. That leaves me feeling tiny and elderly and unimportant. But when I get past that, there's almost always something I can learn from the other painters there. The trick is to drop my own defensiveness and look at their work with an open mind.
The irony is that there are very few painters who don't also experience that insecurity somewhere, because there will always be painters who are 'better' than we are. I know an artist with a reputation for cockiness. I saw him over the summer at an event that's outside his usual sphere. He was palpably nervous and uncomfortable.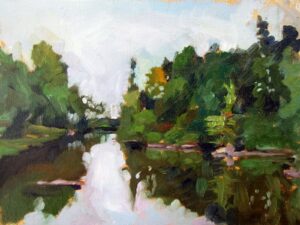 We all harbor the secret belief that we're geniuses, and the cold hard light of the public square exposes all our weaknesses.
It's true that the marketplace often rewards mediocrity and conventional thinking. That's the story behind the 1863 Salon des Refusés, which inadvertently legitimized Impressionism. Think of all the horrid art you've seen in hotels and doctors' offices. There's the Thomas Kinkade phenomenon.
However, the marketplace is also an intelligent voice of criticism. People buy art that speaks to them. If the public square doesn't reward you at all, you need to improve your communication skills, either with a brush or in words.
"Anything that won't sell, I don't want to invent. Its sale is proof of utility, and utility is success," Edison also said. There are limits to that kind of thinking in fine art, but he wasn't entirely wrong.
How have you conquered your fears and put your work out there to be judged?