Sailing is a great disperser of cares.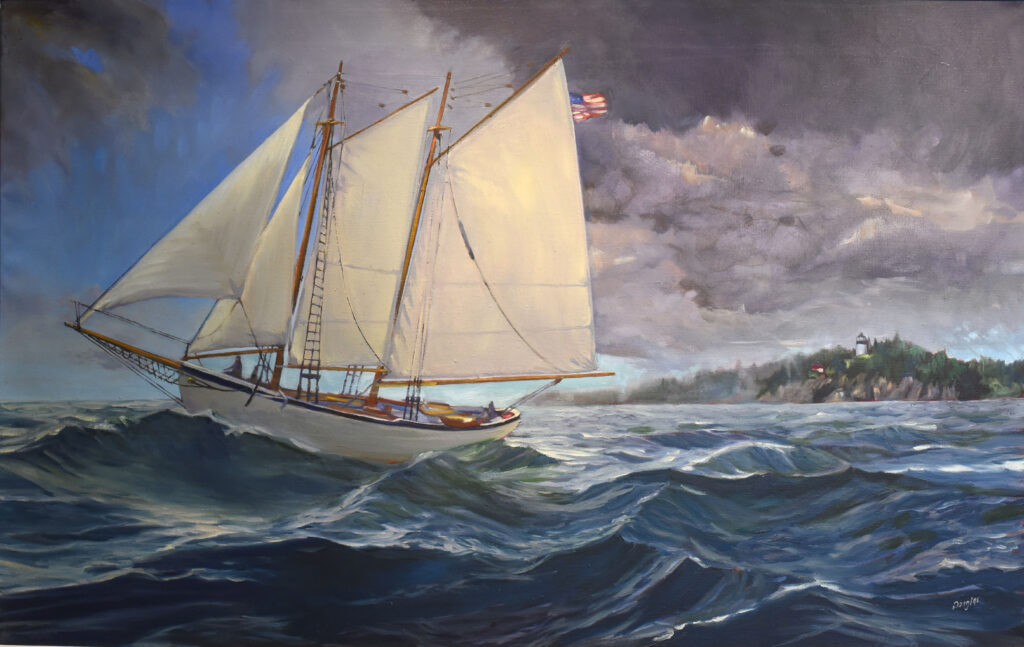 By the time you read this, I'll be sailing in Penobscot Bay, teaching my first workshop of the season aboard the schooner American Eagle. Between the pressures of work and some personal issues, I've been struggling since I got home from walking across Britain. Sailing is just the tonic I need right now.
Occasionally, someone will tell me that they suffer terribly from mal de mer and ask me for suggestions. There are better medications available these days, but if you really can't look at a glass of water without getting queasy, you're better off just taking a different kind of workshop.
You never know what you're going to find in the ocean.
But if you've got the stomach for it, sailing is a great disperser of cares. You're at one with the boat; you have to be, as ignoring her swings and rolls will cause you to fall down. That puts you totally in the moment, watching the sails, the waves, the shifts in air, and being an active part of the amazing complexity of 19th century transport technology. Sail power is the original renewable energy resource, but the boat doesn't go if we don't help. Someone has to hoist those sails, and we're it.
Painting and sailing and sailing and painting…
Schooners are defined not by their hull shape but by their rigging; they're fore-and-aft rigged on two or more masts, with the foremast generally shorter than the mainmast. They were the workhorses of the preindustrial sea, designed mainly for fishing and to move cargo. The overwhelming majority of them were never meant as passenger boats. The whole Maine windjammer thing was an impossible idea realized by people who primarily wanted to preserve and sail these big, beautiful beasts. The best way to do that turned out to be to operate them for the tourist trade.
There's occasional shore leave… and lobster.

One of these people is Captain John Foss, who restored American Eagle and sailed her for 37 years. He's passed the wheel to Captain Tyler King. I've sailed with Tyler, and he's a nice young man who clearly knows what he's doing. I'm quite confident Tyler won't hit anything, but I'll sure miss the old gaffer. But as they say, the only constant in this world is change.
I won't be back until Saturday, so there will be no blog post here on Friday. But on Saturday afternoon, I'll open my gallery at 394 Commercial Street, Rockport, for the first time this year. It's going to be a soft opening (meaning I don't have my act together) but I sure would enjoy seeing you if you want to stop by.