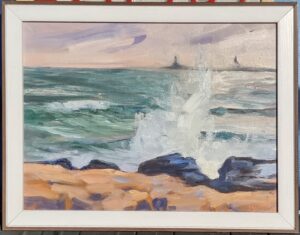 Driving home from Cape Ann Plein Air (CAPA), I listened to an episode of The Side Hustle Show featuring a sobriety podcaster called Gill Tietz. She said, "stop seeing your peers as competitors; see them as marketing partners instead."
That's exactly why plein air festivals like CAPA work. Obviously, we're competitors for prizes and sales. More importantly, we're working together to create a market for art. Nobody is going to visit the Rockport Golf Club to see five paintings by Carol Douglas. But they will drive there to see 175 paintings by 35 artists from across the US. There's strength in numbers.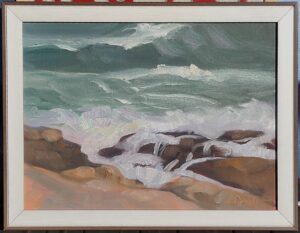 That principle works across business models. Public markets are a great example of small farmers who band together to punch above their individual weight. Yes, the guy selling organic lamb is competing against the guy selling chicken, but together they manage to lighten my wallet by a considerable sum.
Unbalanced competition can undo this model; there is nothing as depressing as a shopping mall with half its stores shuttered. We can't say exactly why, but none of us like to go there.
The stretch of coastal Maine in which I live is known for its concentration of galleries. Nobody would drive here for just one gallery, but they come in their tens of thousands for the whole scene.
That has an impact beyond just attracting buyers. It attracts other artists to the community. There were four painters at Cape Ann from my own little stretch of seaside—Tom Bucci of Camden, Ken DeWaard of Hope, Eric Jacobsen of Thomaston, and me. None of us are native Mainers; all of us relocated here to live and work.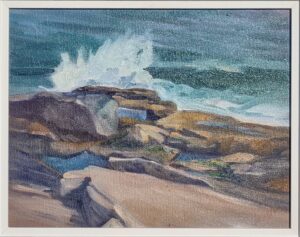 In general, artists do the collegial thing very well. Of course, we all know artists who love to crow about their own work, who make cutting comments, or who slyly bend the rules. Unless they're undercutting the event, ignore them; they're working from a position of insecurity.
I like to paint with Eric, Ken and Björn Runquist. It's always entertaining. Sometimes it's the push I need to get out the door at all. Painting together can also be a form of peer-mentoring.
We think of mentorship as giving help and advice to a less experienced, younger person, but it also happens between peers. It can be as simple as Kirk Larson showing me a video light he carries to offset bad lighting, or as deep as talking a buddy through a bad patch. My students have a peer-mentoring group on Facebook that gives fantastic support and guidance.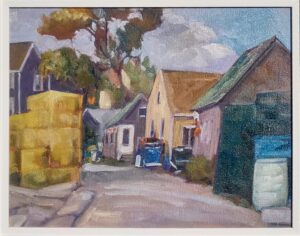 For this model to work, the green-eyed beast of envy must be stomped down and never allowed to return. "That's easier said than done," you might say, but it's really just a question of controlling your own thinking. When you find yourself feeling jealous of another artist, firmly set those thoughts aside and move on. If they return, do it again. Envy is really just a bad habit that can be broken. It impedes your creative process.
There will always be someone who does a better painting, wins more prizes, or sells more work. If he or she isn't at this show, they'll be at the next one. Judging and sales are often style-driven and subjective, so you'll go nuts trying to assess your own worth based on what someone else is doing.