I'm off to Maine and Rye! I'm leaving some of my favorite landscape paintings for you—works by Canada's mighty Group of Seven painters. I love them because they combine the freshness of impressionism with a love for the northern landscape.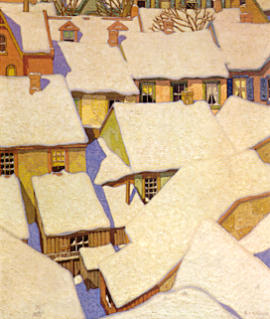 Housetops in the Ward, 1924, AJ Casson (he did versions in oil and watercolor)
AJ Casson went to work at age 15 as an apprentice at a Hamilton, Ontario, lithographer. The value of that apprenticeship is apparent in his painting: he is a consistently brilliant designer.
Lake Qushog, 1925, AJ Casson
The first public exhibition of his work was at the Canadian National Exhibition, in 1917. As an engraver, he inevitably found himself in the Group of Seven's orbit and was encouraged to sketch and paint. Through the 1920s, he painted in his spare time alone and with the others. He was formally included in the group when Frank Johnston left in 1921.
Join me in October, 2013 at Lakewatch Manor—which is selling out fast—or let me know if you're interested in painting with me in 2014. Click here for more information on my Maine workshops!