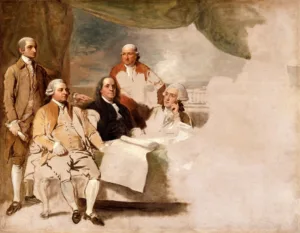 On Wednesday, I mentioned that Norman Mailer finished the first volume of a planned trilogy right before his death at age 84. Sometimes things just don't go as planned.
Benjamin West was a British-American painter best known for historical scenes, including the highly-romanticized The Death of General Wolfe. West was born in Springfield, PA, near Philadelphia, the youngest of ten children. He was entirely self-taught as an artist, but even from his youth, he attracted the interest and admiration of collectors.
Perhaps it was the persona in which he cloaked himself. Later in England, he reminisced that as a child, he was taught by Native Americans to mix paint using clay and bear grease. Today, that story would get you laughed right into Congress; the indigenous people had been pushed out of the lower Delaware River before he was born.
Still, West taught himself to paint, and he did so very well, being widely acclaimed as the first Colonial artist of serious skill. He began to attract the interest of wealthy collectors. At age 22 he set off for a Grand Tour, paid for by two sponsors. At the time, anyone with pretensions to be a gentleman or serious artist went to Italy to moon over the art and architecture. West used his time productively, making copies of Renaissance paintings and expanding his network of friends.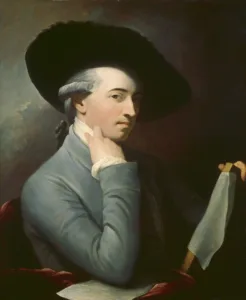 A detour
Three years later, West stopped in England for a short visit on his way home. In fact, he never moved on. After pottering about in Bath and Reading, he settled in London, eventually sending back to Pennsylvania for his fiancée. West went on to become one of the founders of the Royal Academy, and earned the patronage and custom of King George III himself.
That didn't mean he didn't consider himself a Colonial. He frequently revisited North American themes for his grand-scale history paintings, including the bizarre General Johnson Saving a Wounded French Officer from the Tomahawk of a North American Indian. When the British and Americans came to hammer blows in 1776, he maintained a careful neutrality.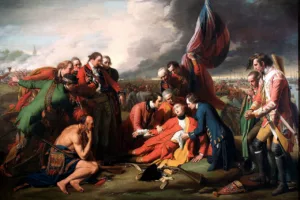 Peace breaks out
Perhaps his idea behind The Treaty of Paris was, "never mind that, we're all friends again." However, it didn't work out as planned. It was intended to be the first in a series on the American Revolution, in the same vein as his cycles of historical paintings at Windsor Castle. It was intended to commemorate the commission that negotiated the end of the American Revolution. On the American side, that was John Jay, John Adams, Benjamin Franklin, Henry Laurens, and William Temple Franklin (Benjamin Franklin's grandson).
The Americans were easy. All but Benjamin Franklin agreed to sit for him, and Franklin's likeness was easy enough to find. West drew him from an engraving; once you realize that, you can see how he was slotted in to the composition.
The British representatives were a Scottish merchant and slave trader called Richard Oswald and his secretary, Caleb Whitefoord. Whitefoord was a beautiful young man, judging by his portrait by Sir Joshua Reynolds. Oswald flat out refused to sit. He said he had a bad eye, and a previous portrait made him look ugly.
We don't have the pictorial evidence to judge, but I'd like to believe that a slave trader with sharp business practices was ugly, inside and out. However, there also must have been a fair amount of bad feeling on the part of the British envoys at that moment. Who really wants to commemorate losing a war?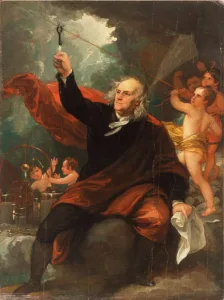 "As I very strongly expressed my regret that this picture should be left unfinished, Mr. West said he thought he could finish it," John Quincy Adams later wrote in his diary. "I understood his intention to be to make a present of it to Congress."
Instead, it languished, and West's Revolutionary War painting cycle never got off the ground. Still, it's more accessible and interesting in its half-finished state than it ever would have been had it been finished and presented to Congress.
My 2023 workshop schedule can be found here. That includes the beautiful red rocks of Sedona, urban painting in Austin, TX, June and September workshops aboard schooner American Eagle, mountain vistas in the Berkshires, and our ever-popular Sea & Sky at Schoodic in Acadia National Park. Why not register today?