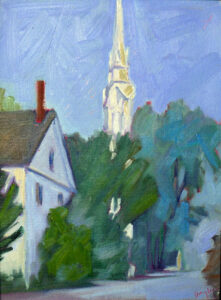 "Interesting that you say 'I have come to recognize that there are certain subjects that will languish, and I no longer seek them out.'  You mentioned gray days. What other subjects do you find difficult to move?" a reader wrote in response to Wednesday's post.
For the record, it was Ken DeWaard who doesn't like gray days. I love fog, especially Maine fog, which seems to have an intelligence of its own. I don't have a particular problem selling fog paintings, especially when there are boats involved.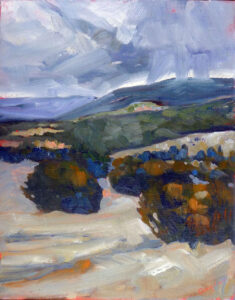 On the other hand, I have never had much success selling snow paintings, although they can be very interesting as they invert typical light relationships. I'm from Buffalo and live in New England, so I know snow. I've painted enough of it. But I only go out in winter to keep Ken and Eric Jacobsen company. Just as Ken has a closet full of grey days, I have a closet full of snow paintings.
Perhaps my audience is sick of shoveling it. However, the late, great Aldro Hibbard lived and worked in Rockport, Massachusetts. He made a fine business of painting snowy Vermont landscapes.
Buyers tend to associate certain painters with certain subjects. Colin Page paints boats, children, and complex still-lives. Charles Fenner Ball paints pastorals and trains. Mary Byrom paints the marshland along the southern Maine shore. Whether or not it's fair for the marketplace to pigeonhole artists, it happens.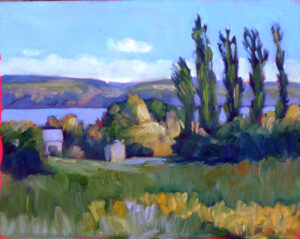 I will occasionally paint an old tractor or historic old farm. These, too, sit on my shelves, but Kari Ganoung Ruiz and Jay Brooks are able to move them along just fine. They both capture the mystery of lost time in these paintings, whereas I am just painting objects.
On the other hand, I sell a lot of boat paintings. A lobster boat is just a tractor of the sea, so why does my audience find them romantic and a Massey-Ferguson prosaic? Perhaps because nobody comes to Maine to look at old tractors, but they do go to central New York for them.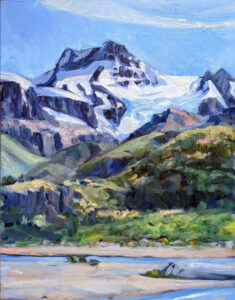 I love rocks. They tell the story of a place, they're fascinating to observe and classify, and I find rock outcroppings easy enough to sell.
However, I also appreciate farm animals, orchards, and hayfields. However, I find it harder to shift these subjects. The farther I get from the farm country of my youth, the less it compels me. Somehow that's transmitted to my audience, although I can't tell you how.
What sells depends on the obsessions of the artist. If you love, say, butterflies, your passion will be transmitted to the canvas and buyers will respond. If you are indifferent to rain, it will show, and your rain paintings will languish. If you spend lots of time painting boats and very little time painting classic cars, your boat paintings will be fresher and livelier.
I frequently marvel over this real estate listing, which features large paintings of meat on the wall. Why anyone would paint them, and why anyone would buy them, escapes me. But truly there's a market for anything, if you're passionate about it.