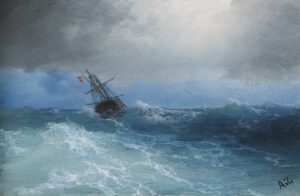 The sublime
The 18th century brought the concept of the sublime into our consciousness. That means a quality of greatness beyond counting-what the religious might call the presence of God. It is harmony and horror in equal measure, and it's meant to apply to every sphere of human endeavor and experience. You might experience the sublime standing on the lip of the Grand Canyon, where your appreciation of the sunrise is informed by your awe in realizing that there's no barrier between you and that huge hole. It is a meeting of our emotional selves with the wonders of creation.
In painting, that experience is articulated in Caspar David Friedrich's Wanderer above the Sea of Fog. It has its parallels in every art form. In the 20th century, the advent of unparalleled efficient death-in-warfare made it appear in poetry, like Wilfred Owen's tragic, beautiful Dulce et Decorum Est.
"Art is for seeing evil," writes philosopher Agnes Callard. "Evil' in this sense includes: hunger, fear, injury, pain, anxiety, injustice, loss, catastrophe, misunderstanding, failure, betrayal, cruelty, boredom, frustration, loneliness, despair, downfall, annihilation." In short, she's talking about whatever is the opposite of goodness, beauty, and virtue.
I think that art is for more than that, but it's a component.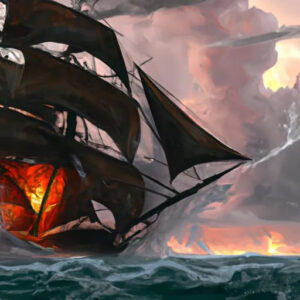 AI generated art
A reader asked me my thoughts about Artificial Intelligence (AI)-generated art. I have little experience with it; I've tinkered with ChatGPT. It creates a facsimile of human writing, strings of language that are fundamentally meaningless. It's perfect, then for advertising copy.
What can an equivalent image generator make? If recent news is to be believed, very brilliant facsimiles of artwork. But can this work make intelligent paintings? I decided to try my hand with an easily-available online generator.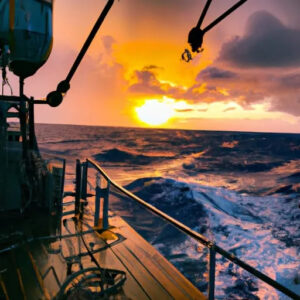 I used as a reference, Ivan Ayvazovsky's Gathering Storm, above. This painting operates at two levels-first, our sheer terror at the beauty and violence of the sea. Then we notice that the boat appears to be floating rudderless within the storm. It's both a beautiful painting and a perfect metaphor for aspects of our human existence-the epitome of the sublime in painting.
I thought up a set of descriptors for Aivazovsky's painting: evening ocean storm squarerigger. The app came up with the image above. Cute, but cartoonish.
On the surface, perhaps, it would make a decent painting, but there's nothing terrifying or profound about it. I refined that by changing keywords, ending up by adding "bleak," which just gave me a low-chroma version of the prior iteration. My succession of images are as they appear in this post.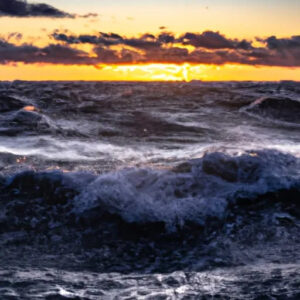 Tinkering might lead me to much better apps online. But while these images are good, they're devoid of human emotion or ideas. Yes, they can occasionally get lucky and come up with an image that 'means' something, but that requires a human curator to discern. They're just like Google Image Search with filters.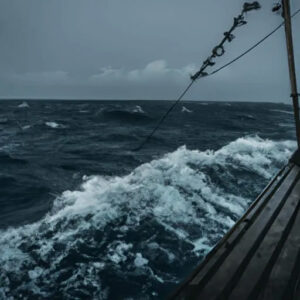 The greatest ability we have in painting isn't our technical skill (as important as that is) but our human intellect, both rational and emotional. The 20th century movement towards content-free art is over, because it can be done better and faster by machines. It doesn't matter if you're painting abstraction or landscape; start thinking about what the higher meaning of your work is. If it's not there, you can be replaced by a computer.
My workshop schedule can be found here. That includes an immersive, in-person workshop in Rockport, ME. In 2024, we'll be in Sedona and Austin in March, and the Berkshires in August. Why not register today?