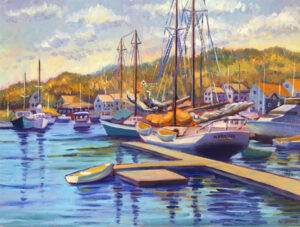 "I've escaped from Pleasantville," Cassie Sano excitedly told our zoom class. "I've always been afraid to step out of Pleasantville, but now I'm exploring outside of it.
Later, I asked her about this transformation. "It's not that my paintings were awful. I was just painting too tightly and too carefully with no detail left undefined," she said. "They were pleasant, but somewhat boring. Afraid to step 'out of bounds,' my paintings reminded me of the movie Pleasantville, and I began to jokingly refer to them with that name."
That's a 1998 comedy about two siblings trapped in a 1950s sitcom, set in a small town populated by 'perfect' people.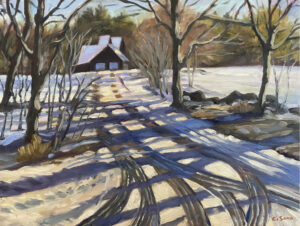 "I left nothing to the imagination of the viewer. I wanted to get the heck out of Pleasantville, but I didn't know how."
Cassie is somewhat handicapped in that goal by being one of the most pleasant people I know. Behind her gentle demeanor, however, is a fiercely-fit single-mother and grandmother; she once bounded up Bald Mountain to keep me company while I was painting. And then bounded around the summit to keep herself amused.
She studied graphic design at Salem State University, Elementary Education at Boston College, and cartography and journalism in the military. "In 2018, I retired as a mail carrier for the US Postal Service, and then began focusing on my art. I spent a few years doing pottery, but then shifted to watercolor and oil painting, writing and illustrating picture books, and teaching watercolor painting to beginners."
"When I first started painting with oils, I was focused on the technical aspects of painting– how to set up my palette, when to use Turpenoid or medium, how to apply the paint on the canvas, and effective use of values and composition. As I became more comfortable with these technical matters, I began to think beyond them."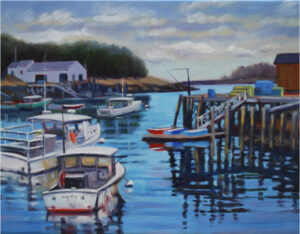 Transformation from journeyman to master
That makes sense; we must figure out technique before we can dig into meaning and expression. But at some point, technique becomes automatic and we start thinking about deeper issues.
Cassie's most recent class with me was on bravura brushwork, and that seemed to be what she needed to get past literalism-especially the class where I asked her to paint like Vincent van Gogh. "I could feel myself loosening up and finally seeing how to sneak past Border Patrol… I felt a lot of joy after that class and shouted (to myself), 'I finally get it!'"
"My goal is to continue practicing these techniques with an emphasis on making my paintings more exciting and joyful for the viewers, and leaving a lot to their imagination," she told me.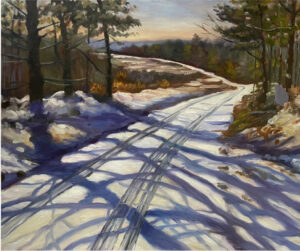 Cassie is represented by Eye Feast Art. She is a member of the Kennebec Valley Art Association, River Arts Gallery, and Maine Arts Gallery, and the organizer for the Kennebec Valley Plein Air Painters. In June, she will have a solo show at McLaughlin Garden and Homestead, 97 Main Street, South Paris, ME. The opening will be June 3 from 2-4 PM.
My workshop schedule can be found here. That includes an immersive, in-person workshop in Rockport, ME. In 2024, we'll be in Sedona and Austin in March, and the Berkshires in August. Why not register today?