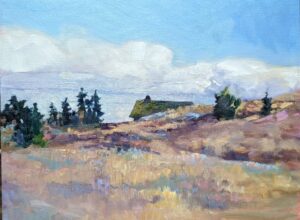 Near the wonderful, loose Andrew Wyeth watercolors at the Farnsworth Art Museum is a small room dedicated to his painting practice. You are surrounded by his careful investigation of details, compositional sketches, and studies. "When I was painting Christina's World I would sit there by the hours working on the grass, and I began to feel I was really out in the field. I got lost in the texture of the thing. I remember going down into the field and grabbing up a section of earth and setting it on the base of my easel. It wasn't a painting I was working on. I was actually working on the ground itself," he said.
Edward Hopper, who mined similar veins of alienation as Wyeth, was known for meticulously storyboarding his major paintings. He drew thousands of preparatory sketches. A comparison of one of his final sketches for Nighthawks with the final painting shows just how important his drawings were in cutting things down to the bone. He used drawing to shake off the burden of representational reality.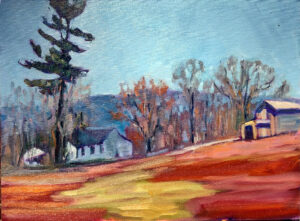 Modern plein air painting
On the flip side, there's contemporary plein air painting, dashed off in alla prima technique in a matter of a few hours. I love plein air painting myself, but a recent conversation with a student had me wondering about its lasting value. She is frustrated with her local painting group, which never works more than two or three hours. "What's the point of rushing like that?" she asked me.
There are hundreds of plein air events in the United States every year, each of which has around thirty juried artists, each of whom in turn produces 5-10 works per event. That means the art market is flooded with tens of thousands of paintings from these events alone. Not all of them are good. I've produced more than my share of duds.
These events create a commodity that's affordable to a middle-class audience. There's nothing inherently wrong with that; it's what drove the Dutch Golden Age of Painting, which gave us Vermeer, Frans Hals and Rembrandt.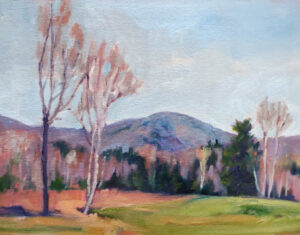 But it's equally true that mass movements give us our share of dreck. The paintings done at plein air events are often safe (read 'boring') and dashed off without a lot of thought. That's because plein air events are a production grind.
Loose brushwork has become the norm of plein air painting. But there's no law that says that plein air must be quick, or that loose brushwork is the apotheosis of outdoor painting. These are just tropes of our times. Leaning into them too heavily just makes you a copier of other people's ideas.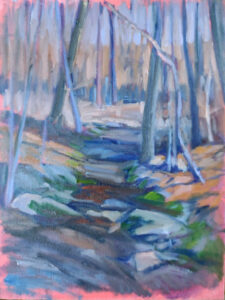 Go outside and take your time
This spring in the northeast is miserably cold and wet. I've painted outdoors just twice. Out of the three things I did, the one I like is the least-finished (above). In the other two, I was tinkering, trying to feather trees like Chauncey Ryder. Everything else in my paintings suffered. I don't care; I'll wipe out the boards and try again.
I have my eye on another stand of trees, small spruces. I want to see if I can mimic the soft brushwork of Anders Zorn in them, since to me he's the only person who ever painted baby evergreens convincingly.
"You're going to confuse yourself with all this mimicry!" Eric Jacobsen chided me. Well, no, because I don't really want to paint like Ryder or Zorn. I want to figure out how they did this specific soft-focus thing on trees. I could never do this if I was still rushing around churning out three-hour paintings at events. The cost of failure is too great.
My 2023 workshop schedule can be found here. That includes September aboard schooner American Eagle, mountain vistas in the Berkshires, and our ever-popular Sea & Sky at Schoodic in Acadia National Park. New, in October, an immersive, in-person workshop in Rockport, ME. In 2024, we'll be in Sedona and Austin in March. Why not register today?