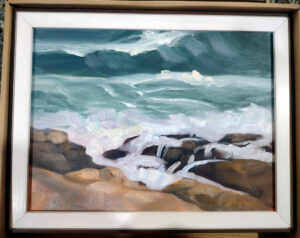 Back when I was raising children, they used to say (jokingly, I hope) that the oldest one was an experiment. You should throw that one out and try again once you knew something about parenting. That's not true about my kids, but it is often true about my painting. I should have remembered that in the cold and rain the first morning at Cape Ann Plein Air (CAPA).
I blame it on trawler envy. We have fishing boats in Maine, but nothing like these big factories of the sea that they have in Gloucester. I took a moment to say thanks for all the fish of the ocean that feed so many of us. Then I set to work on the Jodrey State Fish Pier with Elaine Lisle and Richard Sneary.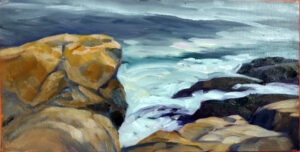 The mizzle began to solidify into something resembling rain, so Dick (a watercolorist) packed up his easel and left. Elaine stayed and finished a lovely, bright, 10X10 square of the harbor. I struggled on until 1 PM, when—cold, wet and in need of a bathroom—I folded. Looking back at that start, I wish I'd quit hours earlier. The color and brushwork are fine. The composition violates my first rule of painting: don't be boring.
I've been living in Maine long enough for its sedate driving habits to wear off my New York edges. I was dithering in an intersection when my phone rang. It was Eric Jacobsen. "Where are you?" he asked.
"Trying to turn onto Bass Avenue, and about to be killed by these fast Massachusetts drivers," I muttered. Okay, that's a paraphrase.
"Well, don't do that," he said in a reasonable voice. "Charles Newman, Mitch Baird, and I are at Bass Rocks. Come over here."
That was all I needed to escape my slough of despond. Rocks, surf, and good company. The game, as Mr. Holmes said, was afoot.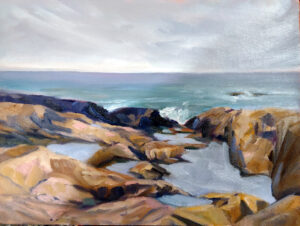 CAPA's quick draw is immensely popular, drawing about a hundred non-juried artists in addition to those of us in the juried show. This year it was at the Allyn Cox Reservation in Essex, which must be a beautiful property when you can stand upright to see it. My goal was simply to survive the gale force winds. I set up next to Jonathan McPhillips as he's big, and I thought he'd be a good windbreak. I set my easel as low to the ground as I could. As soon as I saw Jonathan's block-in, I knew he had a winner. It was a wonderful composition.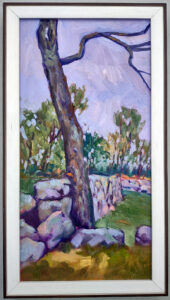 Winds like those mean wild surf, so Eric, Mitch and I set off for Cape Hedge. It was difficult to paint, but all that dashing, crashing water made it so worthwhile. We worked small, because anything else would have blown away.
I know that Mondays are usually an art lesson, but I haven't got it in me this morning. I'll leave you with this utterly prosaic truth: if at first you don't succeed, try, try again. My first painting was horrible. My second was acceptable. My third was interesting, my fourth (quick draw) made me happy, and I really like my fifth one. Today is a new morning, and I'm off to beat the sunrise.  Later, friends.