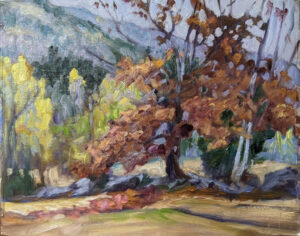 The steak
Yesterday I stopped at RGH Paint in Colonie, NY. I've been using their paint for years. It's made locally. More importantly, it's a fine product with a high pigment load.
It's a relaxed process to work with them. There's just Rolf Haarem, the founder, and his assistant, Roger. They have a tiny manufacturing shop tucked away on Railroad Avenue. There's a roller mill, jars of supplies and finished paint, a workbench and little else. There's no marketing department; the paint is sold on-line, and his customers learn of him by word-of-mouth.
We chatted briefly, I took my paints, and then I was off to my next stop.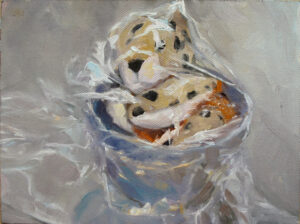 The sizzle
I passed a 'paint and sip' franchise. There are roughly 1000 of these outlets in the US and Canada, catering overwhelmingly to hen parties. They represent more than $115 million in annual sales.
Years ago, I wrote about my pal Chrissy Pahucki going rogue at one of these events. She's a professional artist, but when one is invited to one's friend's party, it's rude to sniff and say, "I'm sorry, that's beneath me."
Her experience reminded me of getting a Paint-by-Number kit for my ninth birthday. I already had a clear picture of myself as an artist and was deeply offended.
My seven-year-old granddaughter has a toy sewing machine. It hasn't worked properly since she got it. This week I rethreaded it, cleaned the bobbin case, and we made a Barbie dress together. I'm an experienced seamstress but I couldn't get a straight stitch out of the thing. The bobbin jammed under the slightest provocation. Without a knowledgeable adult to help, most kids will quit before they ever really get started.
I paid my annual pilgrimage to Marshalls' after-Christmas clearance sale. There were several all-inclusive paint kits on the clearance shelves, so cheap that even a wise old bird like me was tempted. But they're trash paints and garbage brushes.
The paint-and-sip shops, the paint-by-numbers kits, the toy sewing machine and the cheap paint sets are all driven by vast marketing budgets, but in terms of learning, they're worthless. To learn to do something properly, even from the beginning, you need the right tools and materials and the right instruction.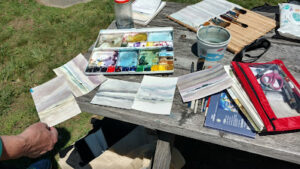 Last chance to get an early-bird discount
On that note, early-bird discounts for my 2023 weekend end on Saturday night.
I've realized that in any year I can teach a maximum of 300 students, and that's working full-bore teaching both Zoom classes and workshops. It never actually adds up to 300, because my students tend to stick with me. That's why most of you never heard of my January atmospherics class; it was filled instantly by repeat students.
I limit the size of my workshops because there's no point in attending a big class; you might as well just watch a video. That means there are only 84 seats available in 2023—and many of them are already taken. These are the only in-person classes I plan to teach in 2023, and the discount ends Saturday night.
Age of Sail: Workshop on the water
USE COUPON CODE ISAW3SHIPS
Learn to watercolor on the magical, mystical waters of Maine's Penobscot Bay, aboard the historic schooner American Eagle. All materials, berth, meals and instruction included. Sessions run June 20-24, 2023 and September 16-20, 2023.
Note: typically, I ask you to secure your berth first by calling Shary at 207-594-8007. However, if you can't reach her, just do this part of the registration and we'll straighten it out next week.
Towards amazing color: Sedona, AZ
(This workshop doesn't offer an early-bird discount, sorry.)
Learn to manage all aspects of color on location in the amazing and wonderful landscape of Sedona, AZ. Sponsored by Sedona Arts Center. March 20-24, 2023.
Find your authentic voice in plein air: Austin, TX
USE COUPON CODE YULE
Austin offers a wealth of possibilities to the plein air painter, ranging from historic architecture, beautiful parks, and the urban energy of this cosmopolitan, quirky capitol city. March 27-31, 2023.
USE COUPON CODE YULE
Far from the hustle and bustle of Bar Harbor, Schoodic Peninsula has dramatic rock formations, windblown pines, pounding surf and stunning mountain views that draw visitors from around the world. August 6-11, 2023. Register for all-inclusive accommodation or instruction only.
Find your authentic Voice in plein air: Berkshires
USE COUPON CODE YULE
Centered in the beautiful Berkshires in western Massachusetts. You will find your own voice and style without becoming anyone's clone. August 14-18, 2023
For more information on all workshops, see here.